JF Bites – Fondue, Still Hip.
9 Min.
After the decadence of the holidays and the pressure of all those pesky new years resolutions many of us spend January washing down our raw meals with green smoothies in between bootcamp and starting that new running regime… Which means that by the time February rolls around we are all ready for a treat! Fortunately February is National Fondue Month and JF Bites has all the info you need to enjoy the cheesy goodness.
Fondue may have had its hey-day in the 70's but something that gooey and delicious can never truly go out of style. The Swiss can take credit for this incredible creation which dates back to the 18th century. 'Fondue' is derived from the French verb "fondre" which means to melt and is thought to have been a way to use up stale bread and cheese rinds (so it's delicious and frugal). Over time the dish evolved in French and Swiss cuisine to include cooking meat in hot oil in the same communal Fondue pot similar dishes in Asia were also common, but the meats were typically cooked in broth.
Once Fondue hit the US in the 60's and 70's Fondue parties became the rage and grew to include cheese, meat and chocolate (!). The creation of chocolate fondue is credited to a Swiss restaurant in New York called Chalet Suisse. Konrad Egli, the owner created it as a way for Swiss-based Toblerone to promote their product in the US*.
I think that Cather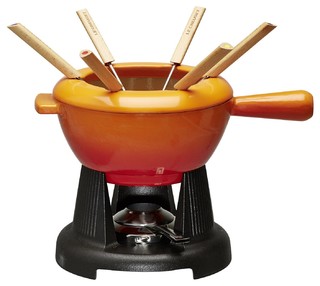 ine Phipps says it best in her article "A Fondness for Fondue" in the Guardian back in 2010; "As far as I was concerned, a fondue set opened the door to cheese heaven, fondues being way up there with all those other cheesy comfort foods like macaroni cheese, tartiflette, welsh rarebit and of course all the variations on the toasted cheese sandwich (never bettered than when made on the simmering plate of the Aga, something I mourn the loss of almost daily). Such foods deliver up luscious strings of melty cheese, along with an intensely umami brown crust which I have always found impossible to resist. The fondue has both – eat up all that unctious cheesy goodness and you are rewarded by the cheese crust (la religieuse) at the bottom of the pot – possibly the best bit and always greedily fought over".
Thank you Catherine, my mouth is watering. But before you unearth your fondue set (you have one, everyone has one…) there are a few rules to abide by – I did not make these up, and Boston Restaurant Week bloggers swear they didn't either*.
If a woman drops a dipper in the pot, she has to kiss the man on her right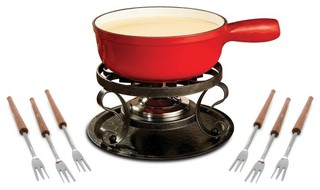 If a man drops a dipper in the pot, he has to buy the next round of drinks
If a dipper is dropped a second time, the first person to do so has to host the next fondue party
Never double dip.
Never knock a fellow dipper's fork out of the way (this is otherwise known as a pot block)
Always let ladies dip first, it's only the polite thing to do
The final step in your path to fondue fun is a good recipe, I found this one from the fine folks at Edible, it's an old school recipe that will transport you to a quaint Swiss mountain chalet for the evening and leave you filled and fueled with the warm, gooey goodness that makes facing a frigid New England winter just a little bit easier.
Traditional Basic Swiss Cheese Fondue
Ingredients:
1 pound Swiss Emmentaler cheese shredded
1 clove garlic, cut in half
2 tablespoons flour or corn starch
2 cups dry white wine
Grated nutmeg
Salt and pepper to taste
3-4 tablespoons kirsch
Dredge cheese with flour or corn starch, rub inside of earthenware fondue cooking pot with the garlic. Pour in wine and heat until the wine begins to bubble. Stir in the cheese by the handfuls, stirring continuously with a wooden spoon until the cheese is melted. Season to taste with salt and pepper. Add kirsch and stir. Serves six. Recipe from Kerriann Flanagan Brosky, Edible Long Island, Feb 2015
*Boston Restaurant Week blog, Feb 25th 2015
Fondue Sets found on Houzz.com